'The Queen in the Coventry Tapestry' exhibition launch event, 4th May 2023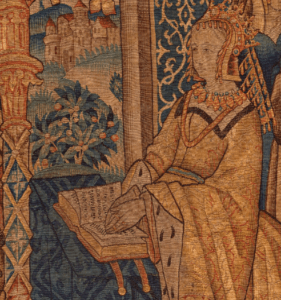 Tickets are available to book for a special launch event of the Royal Women of Influence exhibition at St Mary's Hall, produced by Medieval Coventry and TORCH, The Oxford Research Centre in the Humanities, University of Oxford.
The launch event on 4th May will start at 18.30 and feature two guest speakers and tours of the exhibition.
Dr Rachel Delman, University of Oxford, Queen Margaret of Anjou and her Connection to Coventry,
Dr Mark Webb, Medieval Coventry, Latest Research on the St Mary's Hall Tapestry and a Discussion of the Figure of Margaret of Anjou.
This will be a unique opportunity to hear about the latest research into Queen Margaret, who, with her husband King Henry VI, established their headquarters in Coventry during the Wars of the Roses, making the city the effective capital of England, 1456-60. The early 16th century wool and silk tapestry in St Mary's Hall is the oldest tapestry still hanging in the place for which it was designed and depicts Margaret and Henry beside the ascending Virgin Mary and flanked by male and female courtiers, saints and martyrs. It is gradually giving up its secrets following a symposium of experts gathered in the hall in 2019.
Light refreshments will be provided.
Bookings can be made using the following link: The Queen in the Coventry Tapestry (ticketsolve.com)
The exhibition Royal Women of Influence in Medieval Coventry: Queen Isabella and Margaret of Anjou was first shown in 2018 and is back by popular demand. It opens on Monday 24th April and closes on 1st July.
For those wishing to discover more about Isabella and Margaret and theirhere.
association with Coventry, a walking tour leaflet is available